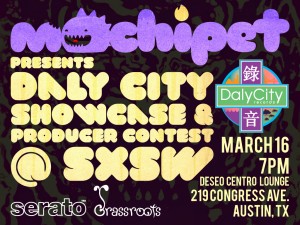 Daly City Showcase sponsored by Serato and Grassroots
Who?
Mochipet w/Joe Mousepad
Ill-esha
Bird of Prey
Hot Tub
Mindelixir
Freddy Todd
Elfkowitz
Vladimir Computin
Sound Became Color
Dov (Muti)
Ribotto feat. DJ F on Sax (Lasermoth)
Knowa Knowone
Psymbionic
AfroMonk
+ special guests TBA!
Where?
Deseo Centro Lounge 219 Congress Ave. Austin, TX 78701
When?
Wed 3/16 3pm-2am
Cost?
FREEEEEEEEEEEEEEEEEEEE
Daly City SXSW Producer's Contest:
We're looking for one Crunk-Tastic, Bomb-Diggity-licious, Lazer-Major Producer to join us..
Do you have what it takes to perform with the Daly City Crew?
DO you know someone who might? The best producer will win a slot to perform with the Daly City Crew!
Post your best production here and have your friends vote for you by clicking "like" we will listen to all the tracks and pick a winner for SXSW! We know many of you are looking for a chance to be heard- this is it!
*Please click on "I am attending" so we can send you updates on the contest!

http://www.facebook.com/yeahhelladude#!/event.php?eid=167751729943626
http://www.dalycityrecords.com
http://www.mochipet.com/free/
http://soundcloud.com/mochipet
Daly City Records at other SXSW Events!!
Mar 17, 2011 – Austin, TX (US) @ Bass Invasion
419 e 7th st. austin, tx
Mochipet (1-2am Thursday Night/Friday Morning)
Ill-esha
Deceptikon
Vladimir Computin
Mar 17, 2011 – Austin, TX (US) @ Lipstick Bar SUPERGOODMUSIC, HEARD ENTERTAINMENT & GRASSROOTS CALIFORNIA
606 E 7th St Austin, TX 78701
Mochipet (9:30PM in the Main Room)
Ill-esha TBA
Mar 17, 2011 – Austin, TX (US) @ Deseo Centro Lounge
Mochipet at BWOMP SXSW Showcase (11-11:45PM)