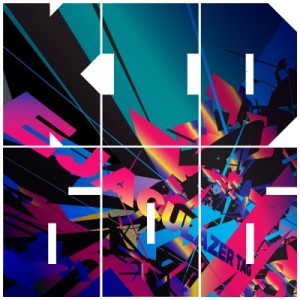 Ejaculazer Tag: A big 80 bpm blast of shiny synthesizer funk influenced in equal parts by Dr. Dre, Daft Punk, and Vangelis.
Mochipet brings an epic remix that makes the original sound small in comparison with sweeping strings and a soaring angelic vocal chorus.
We call it life: another 80 bpm Sci-fi hip hop jam, but dark and brooding with a more dirty south crunk influence.
Ejaculazer Tag 160bpm club remix: High power 160 bpm hyped up
juke styled remix.
Cartoon funk: this one is just plain freaky and weird like someone spilled cough syrup in your 808 and it had a mind of its own.
Ejaculazer Tag – Joe Lentini Dub: New Schematic artist Joe Lentini shows another side of his incredibly diverse style with this thick and contemplative smoothjam.
Let's Get Radioactive – Kanji Kinetic remix: Mutantbass Mastermind and the UK's most underrated producer makes a fun and nasty hardcore crowdpleaser out of Kid606's delusional song about aliens and nuclear energy.
Cover art by Dj Zhao
Artist: Kid606
Album Title: Ejaculazer Tag EP
Catalogue Number: meow187
Label: Tigerbeat6
Release Date: March 26th, 2012
Format: digital EP
Label Contact: office@tigerbeat6.com
Tracklist:

1. Ejaculazer Tag
2. Ejaculazer Tag – Mochipet remix
3. We Call It Life
4. Ejaculazer Tag – 160bpm club remix
5. Cartooon Funk
6. Ejaculazer Tag – Joe Lentini Dub
7. Let's Get Radioactive – Kanji Kinetic remix