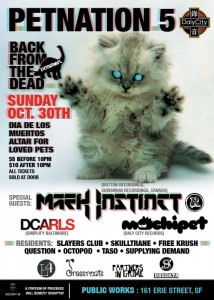 The notorious Bay Area crew behind MOCHIPET'S infamous underground PETNATION parties are Back from the Dead and at it again.. and this time, we're taking you with us San Francisco!
We may have been rocked out of our secret warehouse space last year, but this year we're back and legit as ever at PUBLIC WORKS SF and we figure what better night to come back to life, than the eve of Halloween?
We've rallied up the Daly City Records BASS family and are gearing up for one insane night of beats and glitched out ghouls like nothing you've ever seen before!
MARK INSTINCT
We're bringing out Canada's heaviest hitter in the bass game for this one, and he's ready to cause some serious HEAT San Francisco! A longtime veteran of EXCISION's Rottun Recordings, and currently part of the Subhuman crew, this man is by far a force to be reckoned with. With his fierce, penetrating beats and filthy basslines, it's no wonder MARK INSTINCT has everyone craving more on the dancefloor… from Australia all the way to the US. Get ready Bay Area, it's about to get deliciously GRIMEY!
(Rottun Recordings,Subhuman Recordings|Canada) http://soundcloud.com/Mark_Instinct
and
DCarls
You've heard his tracks played out at every party, now it's time to see him live! 1st time in SF!
(Simplify|Baltimore) http://soundcloud.com/dcarlsmusic
We'll have you dancing til you die in the Dead Pet Cemetery
and bring you back to life again by dawn.
With our Spooky Residents:
Mochipet http://www.fb.com/Mochipet.PetNation
Slayers Club http://theslayersclub.com/audio/
Skulltrane http://soundcloud.com/skulltrane
Free Crush (Konekta/DEVi) http://soundcloud.com/freecrush
Octopod http://soundcloud.com/Octopod
QUESTiON http://soundcloud.com/QUESTiON
Taso http://soundcloud.com/taso
Supplying Demand http://soundcloud.com/Supplyingdemand
Stroll through the dark alleys of the Dia de los Muertos Art Installation and Gallery, as we honor and show respect to the animals of our past and present, extinct or endangered. Bring a token or photo of your fave furry creature for the Dia de Los Muertos altar for loved PETS.
Alter Egos aka Costumes highly recommended and encouraged
*A portion of all proceeds will benefit OCCUPYSF*
SUNDAY OCTOBER 30TH 2011
PUBLIC WORKS SF
161 ERIE STREET
SAN FRANCISCO
9PM-2AM
$5 BEFORE 10PM
$10 AFTER 10PM
ALL TICKETS SOLD AT DOOR ONLY
**THIS IS A 21+ EVENT**
Photography and Video provided by:
Kelsey Winterkorn [http://kelseywinterkorn.com/] Mark Sandstorm [http://marksandstorm.smugmug.com/]
Additional details here: https://www.facebook.com/mochipets.petnation
Take a little peak into our Other World, if you dare: http://www.youtube.com/watch?v=JR59F92gCPE
MARK INSTINCT (Rottun Recordings | Canada)
A purveyor of fierce, penetrating beats and filthy basslines, Mark Instinct is one bad muthafucka – literally. With roots in metal, hip hop, punk and drum and bass there is no sound off limits for this young producer from Calgary who's firmly secured himself amongst some of dubstep and drum and bass's elite. Known for his explosive stage performance and his suave nature behind the decks, you can be sure that Mark Instinct will have your dancefloor poppin. With 2011 appearances at Starscape and Shambhala, and a Australian/US Tour already under his belt, you can be sure Mark Instinct has carved a solid name in the bass game.
This past year Mark's first EP, Get Loud, was dropped on Rottun Records and featured 5 weighty tracks that have all gotten major playback with everyone from Excision to Bare rinsing them. Currently working on EP releases for both Rottun Recordings and Subhuman Recordings, you can be sure that Mark's next release will be showing up on Beatport's Top 100 chart, where he's had numerous other releases land. In addition to his upcoming releases watch for forthcoming collaborations featuring the likes of Armani Reign, Messinian and Death by Stereo's Efrem Shulz.
DCARLS (Simplify|Baltimore)
DCarls is coming with the HEAT from Baltimore, Maryland. This talented Glitch and Dubstep producer has his second EP release on Simplifly Recordings title "Flavorhythm 2″. DCarls does not hold back on "The Heat" in this roller coaster tune with the twists, turns, and screwing bass drops in this a hand crafted masterpiece.
There is no question as to why his tracks are flying up Beatport's charts. Able to muscle basslines around with the best of them, his compositional and theoretical background in piano and guitar make this stuff look easy, but the intricacy and precision are unbelievable. With an infectious, heavy metal riff and pulsing drums that break down into drum & bass with great regularity, "Splash" is about as subtle as a sledgehammer.
There is no question, not a shred of doubt that this kid is a superstar waiting to break out… and we can't wait to say "we told you so."
PETNATION monthlies are proudly sponsored and supported by:
Daly City Records
https://www.facebook.com/pages/Daly-CityRecords/100406556667157
LEVEL 4
https://www.facebook.com/LEVEL4PR
Partners in Grime
http://www.facebook.com/PartnersInGrimeEvents
Grassroots CA
https://www.facebook.com/GrassrootsCali
Slayers Club
https://www.facebook.com/slayersclub
DUB SELEKTA
https://www.facebook.com/thedubselekta