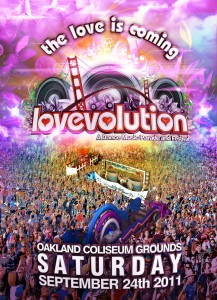 Lovevolution is back and your favorite dino is going to be there! Saturday, September 24th the party returns except this time it's on the Oakland Coliseum Grounds. Mochipet will be performing on the Rebel Bass Collective float that's made entirely of re-cycled and found materials with other acts such as Black Rock City Allstars, Kimba, TDub, Underone:DBM (Pushreset & N'Ya Bass) featuring MC Dino (Urban Aboriginee, LA) , Smash & Grab, Wala and Burton L.
Please remember there ares some changes to Lovevolution this year so make sure you purchase your ticket HERE or at any of the following locations
San Francisco :
Distractions
552 Haight Street, San Francisco, CA
(415) 252-8751
($2 service charge)
Sports Basement
1590 Bryant St, San Francisco, CA
Mon-Fri 9am-9pm // Sat & Sun 9am-7pm
(415) 437-0100
(NO service charge)
Oakland :
Oracle & O.co Coliseum Box Office.
7000 Coliseum Way in Oakland, CA
Monday – Friday: 10:00 a.m. – 5:00 p.m. Saturday: 10 a.m. – 2 p.m. Closed Sundays and Holidays unless there is a scheduled event.
*No Service Fees*.
Santa Cruz :
Streetlight Records
939 Pacific Ave, Santa Cruz, CA
10am-10pm Everyday
(831) 421-9200
$2 service charge
Walnut Creek :
Sports Basement
1881 Ygnacio Valley Rd, Walnut Creek, CA
Mon-Fri 9am-9pm // Sat & Sun 9am-7pm
(925) 941-6100
(NO service charge)
Sunnyvale :
Sports Basement
1177 Kern Avenue, Sunnyvale, CA
(408) 732-0300
Mon-Fri 9am-9pm // Sat 9am-8pm // Sun 9am-7pm.
(NO service charge)
Reno, NV :
The Melting Pot
1049 South Virginia St., Reno, NV
Mon.-Fri. 10:00am-6:00pm, Sat. 11:00am-6:00pm, Sun. 12:00pm-5:00pm (775) 322-9445
($2 service charge)
For more info please visit http://www.sflovevolution.org/home