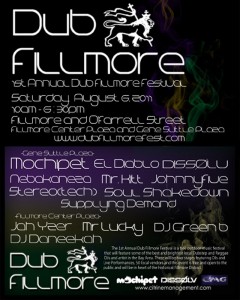 The city of San Francisco is hosting a street festival featuring your favorite Action Packed Music Pet! That's right! Mochipet is headlining The Dub Fillmore Festival along side 12 other amazing musical acts! The event will feature 2 stages and a variety of vendors to fulfill your eyes, ears and taste buds! Part of the Filmore revitalization project this event is to showcase the diversity that is San Francisco and best of all, it's FREE! So come out Saturday and enjoy some Sun, Music, and Eats, in your favorite city by the Bay!


Saturday, August 6 · 10:00am – 6:30pm
*** F R E E ***
*OPEN TO THE PUBLIC, ALL AGES*
There will be Two Outdoor Stages:
~DUBSTEP STAGE~ Gene Suttle Plaza
Mochipet – Daly City Records – http://soundcloud.com/moch​ipet
El Diablo – Mal Label Records – http://soundcloud.com/eldi​ablosf
DISSØLV Live(Liam Shy/www.dissolv.net) http://soundcloud.com/liam​shy
Nebakaneza (Irie Cartel) http://soundcloud.com/neba​kaneza
Johnny5 – Irie Cartel – http://soundcloud.com/john​ny5dubstep
Mr. Kitt – Irie Cartel – http://soundcloud.com/mr-k​itt
SuppyingDemanD-Likquid Therapy-http://soundcloud.com/supp​lyingdemand
Stereotech – http://soundcloud.com/ster​eotech
~REGGAE STAGE~ Fillmore Center Plaza
Audiopharmacy
Jah Yzer – Jah Warrior Shelter
DJ Green B – Cooyah Ladies
DJ Daneekah – Cooyah Ladies
Mr Lucky-I&I Vibration
As we move closer to the year 2012, people in our nation and around the world are fighting for a new vision for the future. A vision of social equity, sustainability, spiritual connection and the awareness of our shared humanity. We are a blend of cultures, colors, shapes and sounds. We are all one. One frequency, one beat, a collective of individuals who have witnessed the struggles of our generation and the ones before us and are planting new seeds that will grow into strong roots. With these roots the flower that is social change will continue to blossom for our community. We are one family, one tribe, doing more together now than we could ever do alone.
Citrine Management Group LLC will host the 1st Annual Dub Fillmore Festival, a music, arts and cultural event in the heart of San Francisco's Fillmore District in an effort to maintain the vibrancy of the neighborhood and pay homage to the growing dub community throughout the city.
The festival will take place on Saturday, August 6th from 10a-6:30p at Fillmore and O'farrell Street at the Gene Suttle and Fillmore Center Plaza. This event is all ages, open to the public at no charge, there will be two stages featuring djs, live performances and over 50 local vendors who will be displaying art and goods during the festival.
For more information about the event check out our website at www.dubfillmorefest.com for updates.
**************************​**************************​***************
ATTN – if you are interested in vending at this event, please contact Feurene Chew (Feurene@gmail.com) or Lisa Nhan (4LisaNhan@gmail.com) for the application. Thanks!
**************************​**************************​***************